LIC IPO is coming soon. The Government of India has made PAN a mandatory tool for any online transaction, investment, savings and insurance. They have increased the deadline till March 2022. Following the government footsteps, LIC has also asked their customers to link the PAN with their LIC policies.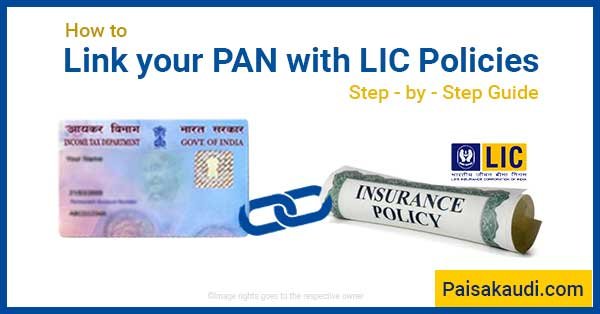 Why it is important to link PAN with LIC Policies
As we all know that PAN is a very important tool to track all the investments, income and transactions easily and transparently.
Also we use LIC policies as a tax savings instrument.
So PAN and LIC policies linking will make all the insurance and investments transparent to both investors and government.
Process of Linking PAN with LIC policy
LIC has made an extremely simple process with easy steps to link your policy with PAN. You can do this online without going anywhere. You just need an active mobile number to get the OTP for LIC verification, PAN, email, LIC policy number. Now keep calm and follow the steps below.
Step 1 : Go to the official website of LIC or click on this link https://licindia.in/
Step 2 : Click on the Online PAN Registration tab in the online services panel on the homepage.
Step 3 : You will be asked to get ready with the PAN Card, mobile number etc. Now simply select the proceed button.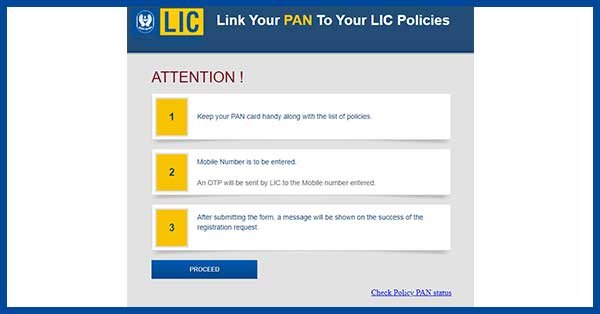 Step 4 : Enter your DOB, Gender, PAN, Full name as per PAN, mobile number and correct policy number, check the consent box, enter captcha and click on Get OTP button. You can add more policy numbers if you have more than one policy.
Step 5 : You will receive an OTP on your registered mobile number. Enter this OTP on the portal in the OTP tab and click on submit button.
That's all. A success screen will show a message that request for PAN registration received.
Your LIC policy is linked with PAN. Congratulations.
In case you face any issue while linking, please contact your agent or go to the respective branch to get it done.
This covers the procedure to link your PAN with your LIC policy. Please comment if you need any further information on this.